---
Meadowlands Comedy Club
Executive Producer
Joe Loesner Presents 
7th Annual Meadowlands Comedy Festival
                                                        Submissions are now open for 2023...     
                                Running April 26th to April 30th 2023...
                   To submit visit the box office page at Meadowlandscomedyclub.com
               Click on the Talent Submissions Link to register.  Submission fee 
                                                                  $30                                      
                                 Deadline to submit is February 28th 2023....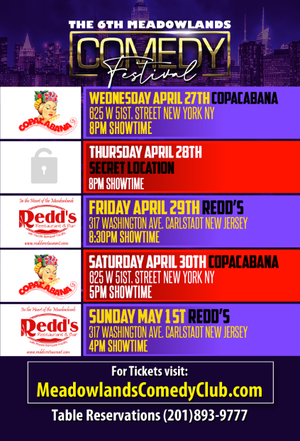 Bringing Big Laughs and the Best Mix of Live Stand-Up Comedy to North Jersey. 
Tickets are available now visit the box office page...
   For the full lineup of comedians, venues, & tickets, visit the Box Office Page at www.MeadowlandsComedyClub.com.
Tickets visit the box office page at www.Meadowlandscomedyclub.com
Table reservations highly recommended for Wednesday, Thursday  Friday and Saturday.

 
Produced by Joe Loesner Presents, LLC.
---